Buy Kitchen Appliances From Amazon
There is a guide provided for you below with the help of which you can learn how you can specify your own needs by making your selection at each level of the Outdoor Kitchens.
1. The first step for you is to select the gas-fired Barbeque Frame or firebox dimensions which suits your needs and Outdoor Kitchen Equipment range. That is either 3-burner (640mm wide) , 4-burner (800mm wide) or 5-burner (960mm wide) Outdoor kitchen range.
2. The second step you is to select the stainless steel plate and grill combination or burner pack that suits how you like to use the barbeque. You can aks for a combo of large plate and small grill (or vice versa) or half plate and half grill or ask for the standard plate and grill combo for the barbeque size you have selected. You can choose from the range of plate widths of 160,200,240,320,400,480,560,640 and 720mm and BBQ grill widths of 160,200,240,320 and 400mm to span the width of the cooking area selected above. The grill of 160mm is minimum required for a perfect ventilation to the firebox.
3. There are two options for you to select one of the two kinds of roasting hood to cover your cooking surface. One is The International Roasting Hod with furnace grade ceramic glass viewing window so you can see how your roast is developing without lifting the hood and allow heat to escape, and other one is Sea View,full stainless steel without viewing window or if you do not want to roast or bake you can select a stainless steel Flat Rain Cover.
4. After that your task should be to assemble the trolley and cabinet kit corresponding to the BBQ fram size selected previously. This will support beneath the BBQ complete with stainless steel cabinetry and tilt-lift door which when fully open, tucks away under the BBQ out of the way of the operator. The central BBQ unit comprising frame,roasting hood,burner pack,trolley and cabinet will then have an overall cabinet width of 3B=810mm, 4B=970mm and 5B=1130mm. Most Outdoor Kitchens have cabinets on both sides of the BBQ cabinet. However if you are willing to terminate one side of the outdoor kitchen assembly with the BBQ module,you may select a cantilevered plain side servery or side burner fixed to that side but if you want a vertical side panel at that side of your BBQ cabinet then you should choose a trolley side panel cover to dress the top edge of the side panel at this end of your outdoor kitchen assembly.
5. If you are looking for a heavy duty stainless steel benchtop module for your outdoor kitchen then you may go for 3B cabinet, drawer and plain benchtop. The size of 3B cabinet units are 810mm width.
If you require the module with a single 15.5MJ side burner select 3B Cabinet, Drawer and Single Side-Burner Benchtop (3B CDBT-2). [Once again you will need to nominate whether you require the module to be fitted to LHS or RHS of the barbeque] This option makes half of the benchtop area available for setting down barbeque portions, condiments, tools or for food preparation. The other half is occupied by the side burner pivoting lid.
If you would prefer to have the 3B Cabinet, Drawer and Dual Side-Burner Benchtop select 3B CDBT-3. This option for two gas ring burners is great for people who only have electric cooktops indoors or who want to do most of their cooking outside. The dual side burner occupies most of the bench space of this 3B Cabinet module.
If you want to be able to wash-up, clean and drain food portions and retain half of the benchtop space as working area for your outdoor kitchen,, select 3B Cabinet, Sinktop 17 litre & Mixer (3B CDBT-4). The 17 litre sink is always positioned in the middle of the cabinet. For something a little larger select 3B Cabinet, Sinktop 30 litre & Mixer (3B CDBT-8) This size sink also has the added advantage of an option timber pre-board to cover the sink when not in use. Please select timber prep-board (PPB) to specify the optional prep-board with this sink. This sink is also positioned in the middle of the benchtop. If you want to be able to wash up plates, grills, roasting racks etc outside then select 3B Cabinet, Deep Sinktop 45 litre and Mixer (3B CDBT-5) The sink is fitted centrally within and takes up almost all of the cabinet benchtop area. The 45 litre sink will accomodate an entire carton of beer or case of wine or salad bowls on ice – it works beautifully as an open ice chest. This sink has a full lift away stainless steel lid available as an option to cover the sink when not in use. Select Cover Plate Stainless Steel (CLP-45) to specify this lid. You can design for one, two or more 3B CDBT-1,2,3,4,5 modules in any sequence with other 3B CDBT-1,2,3,4,5 modules to create more benchtop area and more storage volume. If you have two or more 3B CDBT-1 units side by side, you will need to select a 3B Multiple Bay Custom Benchtop (3B BT-x) to span them with a single stainless steel benchtop. Then there will be no join lines to interrupt
the continuity of your benchtop.
6. You can design for one, two or more 3B CDBT-1,2,3,4,5 modules in any sequence with other 3B CDBT-1,2,3,4,5 modules to create more benchtop area and more storage volume for your outdoor kitchen. If you have two or more 3B CDBT-1 units side by side, you will need to select a 3B Multiple Bay Custom Benchtop (3B BT-x) to span them with a single stainless steel benchtop. Then there will be no join lines to interrupt the continuity of your benchtop.
7. For the traditional alternative to gas barbequing, select a Charcoal Roaster (eg 4B CHAR) instead of, or in addition to, the Barbeque Frame of your choice in 1. above. Lifestyle Charcoal Roasters are of identical modular dimensions to our gas-fired Barbeque Frames.
8. Now you need to decide where in the arrangement of 1B and 3B cabinets and the barbeque cabinet/s the Beverage Centre (if required) will be located on your outdoor kitchen. If you have a side burner, it is best to locate the side burner module on the opposite side of the barbeque to the beverage centre. If you require ABM to supply the Beverage Centre (V40 BVC) please select the item. Please also select the Beverage Centre Cabinet (V40 Cabinet). The V40BVC unit sits directly on its four screw-adjustable legs on the paved, tiled or timber ground surface. Clearances with the cabinet are adjusted by adjusting the legs. Best design locates the BVC Cabinet as the final module at one end of the assembly. Benchtops over the V40 Cabinet are always 675mm deep (front to back). Benchtops over 1B and 3B cabinets can be either 480mm or 675mm deep.
9. To create a solid, durable, totally custom-made and aesthetically pleasing appearance for your Outdoor Kitchen, you can select the stainless steel plinth. The plinth system supports the 1B, 3B and barbeque cabinets, but not the BVC Cabinet, which stands directly on the ground. A dedicated area with smooth and level ground conditions is required for your outdoor kitchen.
Follow above written instructions and enjoy setting up your Outdoor Kitchens.
Buy Kitchen Appliances From Amazon
This post is specially based on Juicers,here you can see some best user friendly,electrically efficient and under budget Juicers from which you can choose one for your kitchen which suits best according to your need and budget.These juicers fits exactly in to the kitchen appliances latest trends.This post is for your help in choosing and not for purchasing,so select your stuff from here and purchase it from anywhere you want to.
1. Cuisinart Juicer (CCJ-100C) :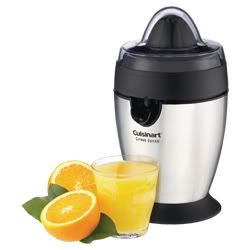 Specifications :
This elegant brushed stainless steel citrus juicer makes squeezing fresh juice clean,quick and easy. An auto-reversing reamer squeezes more juice from the smallest lime to the largest grapefruit, and it have an unique Fast-Spin feature to extracts more juice from pulp. Dishwasher-safe parts for easy cleanups.
Features :
Auto-reversing reamer extracts more juice by automatically changing direction during juicing process.
Pressure activated reamer – just push down and the reamer will automatically reverse.
Popular brushed stainless steel design with black accents for today's kitchens.
Unlimited juicing capacity.
Final-Spin feature extracts more juice from pulp.
Convenient cord storage.
Snap-up spout prevents dripping.
Easy-clean dishwasher-safe parts.
Length x Width x Height: 5.75″ x 6.38″ x 10.75″
Warranty Labour : 3 Years
Warranty Parts : 3 Years
WebId : 10149740
Regular Price: $34.99
2. Home Image Juice Extractor (HI-8K129) :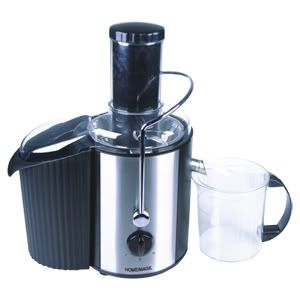 Specifications :
Enjoy making delicious and healthy beverages with this HomeImage Juice Extractor. It's easy to operate and features a large 1000mL capacity and variable pulp selector, so you can make all kinds of great juice drinks any way you like.
Features :
350ml juice cone capacity
Stainless steel trim
1000ml juice container capacity
Detachable transparent container
Easy operating with minimal noise
Dishwasher safe
Variable pulp selector
700 Watts of power
Warranty Labour : 1 year
WebId : 10163025
Regular Price: $65.99
3. Hamilton Beach Juicer (67650C) :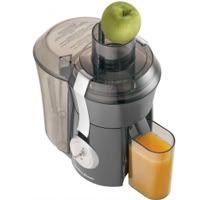 Specifications :
This juice extractor have a powerful motor which quickly processes whole fruits and vegetables in seconds. It features 850 watts / 1.2 horse power motor, an extra large 3″ intake chute, die cast locking clips and toggle plus a durable stainless steel cutter/strainer. It's easy to assemble and disassemble. The 20 oz. juice recipient is in a smoked plastic finish.
Features :
Capacity: 0.6 Liters
Easy-To-Remove Pulp Bin With See-Through Cover
Product Color: Gun Metal Grey
Most parts are dishwasher safe.
Container Type: Plastic
Product Dimensions: 33.17(W) x 24.08(H) x 41.28(D) cm
Product Weight: 4.64 kg
Warranty Labour : 1 Year
Warranty Parts : 1 Year
WebId : 10093199
Regular Price: $109.99
4. Breville Citrus Juicer (800CPXL) :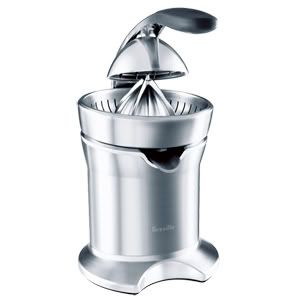 Specifications :
With its durable, stainless steel design, the Breville 800CPXL Citrus Press truly takes the hassle out of making fresh-squeezed juice. An active-arm with Quadra-Fin juicing cone can fit any size of citrus fruit, so you can create a variety of delicious combinations. And with a slew of innovative features, you can enjoy fresh juice any time of the day.
Features :
From lime to orange to grapefruit-and any combination in-between you'll enjoy squeezing your own juice. This Citrus Press features an active-arm with soft-grip handle and Quadra-Fin juicing cone, so you can effortlessly juice citrus fruits and be sure to extract every bit of juice without exerting a ton of force. Two stainless steel filters help you control the amount of pulp to suit your tastes, while the Drip Stop Spout can be flipped up to prevent unwanted drips. And when you're done, Breville's exclusive Assist Plug features a convenient finger hole so you can safely and effortlessly remove it from your outlet.
Warranty Labour : 1 Year
Warranty Parts : 1 Year
WebId : 10127926
Regular Price: $249.99
5. Breville Juicer (BRE800JEXL) :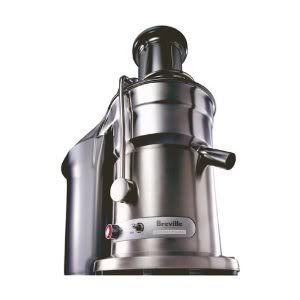 Features & Specifications :
This powerful 1000-watt juicer uses knob control which lets you adjust the speed to accomodate fruits and vegetables of varying softness. It features an extra large pulp container and a patented 3″ centered circular feed chute. Plus, its heavy duty professional die cast stainless steel body and parts are dishwasher safe for easy cleaning.
Warranty Labour : 1 Year
Warranty Parts : 1 Year
WebId : 10148924
Regular Price: $349.99
Buy Kitchen Appliances From Amazon
Appliance selection is an important part of a well-done kitchen remodel and is an area where bad choices may be costly. Prior to making any selections, become familiar with the size and shape of the room and keep proportion in mind. Small spaces won't do well with large appliances and vice versa. Keeping pieces size-appropriate will be aesthetically pleasing and will make sure all the pieces come together correctly. To accomplish this necessity, most manufacturers will provide standard size pieces as well as smaller and larger options.
Kitchen cabinets sizes and dimensions of countertops and appliances cause remodelers, house flippers, and homeowners tons of time and trouble.Below you will find the most common kitchen cabinets sizes, countertop depths and standard appliance dimensions to help you plan your new space.
1. Standard Dimensions Of Kitchen Appliances :
The dimensions of appliances used for residential purposes almost around the world are in the range shown below. These appliance dimensions and kitchen cabinets sizes, will be useful for planning purposes, but you should obtain actual measurements before starting kitchen design or cabinet construction. Most appliances are made to fit below a 24″ deep countertop.
Appliance Dimensions Are In(Height x Width x Depth) :
Cooktop : 2- 3″ 12-48″ 18-22″
Dishwasher : 33-35″ 23-24″ 23-26″
Microwave : 13-18″ 21-23″ 14-22″
Range, floor model : 35-36″ 19-40″ 24-26″
Range, w/ upper oven : 61-68″ 30-40″ 25-28″
Range, drop-in : 23-24″ 23-24″ 22-25″
Range hood : 5-8″ 24-72″ 12-72″
Refrigerator : 55-69″ 24-36″ 26-33″
Trash Compactor : 33-35″ 12-15″ 18-24″
Wall oven, single : 23-25″ 21-24″ 21-23″
Wall oven, double : 39-50″ 21-24″ 21-23″
Wall oven with broiler : 38-40″ 21-24″ 21-23″
2. Standard Dimensions Of  Wall Kitchen Cabinets :
Depth (25″ deep countertop) 12-1/4″
Depth (30″ deep countertop) 15″
Height with full soffit 30″
Height with no soffit 42″
Height of cabinet above countertop 18″
Height of cabinet above stove top 24″
Height of highest shelf 60″-68″
Width to match base cabinet
3. Standard Dimensions Of Kitchen Countertops :
Countertop height 36″
Counter length per person 21″
Depth (one-sided seating) 15″
Depth (two-sided seating) 30″ min
For the physically challenged:
Countertop height 31″
Under counter access width 30″
Under counter access height 29-1/2″
4. Standard Dimensions Of Base Kitchen Cabinets :
Cabinet depth 24″
Countertop depth (1″ overlap) 25″
Height from floor to countertop 36″
Splashboard height 4″
Kickspace height 4″
Kickspace depth 3″
Depth of drawer above cabinet doors 4″
We hope that this provided information will definitely going to help you a lot during the kitchen remodeling or renovation task.
Buy Kitchen Appliances From Amazon
Whether you are replacing a worn-out appliance or planning a full-scale renovation,updating your kitchen by any means can refresh your whole home.Appliances that combine technology, ergonomics, and improved design continue to top the must-have list.Kitchen appliances include everything from toasters to freezers, coffee pots to blenders, hand mixers to Panini presses; no matter how big or small you want to start, check out the new trends in kitchen appliances and get going on your perfect kitchen.
1. Digital rice cooker :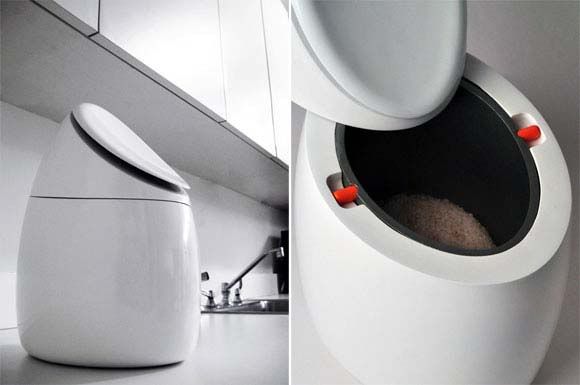 This is a new innovation on cooking, a modern digital rice cooker with a simple design with concave above the pedal pan, which is quite the hub of activity. In this basin, placed a visual screen and touch panel. A tap on the bottom of the panel keys in the choice or takes you forth to the next menu page. Sang Jang Lee
2. French Door Refrigerator :
Freezer on the bottom, two doors on top, available in a variety of sizes and finishes, fits in most standard openings.
3. Sharp Steamwave :
This is one of the first multiple ovens to introduce steam and grill to a microwave unit. The Steamwave has been designed to create pure steam without the use of microwave energy, retaining vitamins and nutrients within the food. Sharp
4. "Quiet" Dishwasher :
The latest innovation: dishwashers that make as much noise as a refrigerator motor. These units combine nearly silent operation, powerful features that leave dishes sparkling, and are designed to save water and electricity.Bosch, Integra Series.
5. Solid fuel stoves :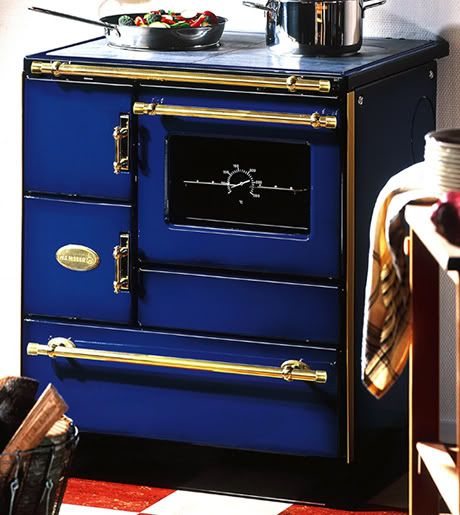 The stylish solid fuel stoves, supply everything a modern house needs. Solid fuel models offer quality materials and superior functionality. Wamsler
6. Arte Hood :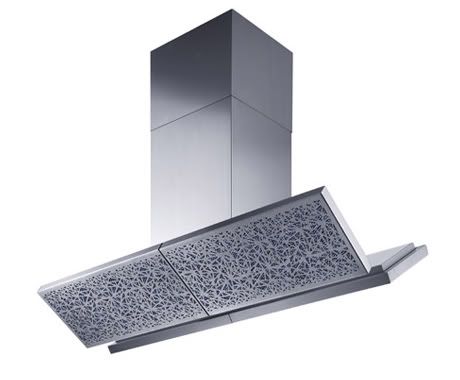 Arte is a stylish canopy that looks like an abstract painting 90cm width. Functionally the hood is 950 m / h extraction rate, and innovative LED filters condensation. The island is in both models and hanging. Gutmann
7. Mini Fridge :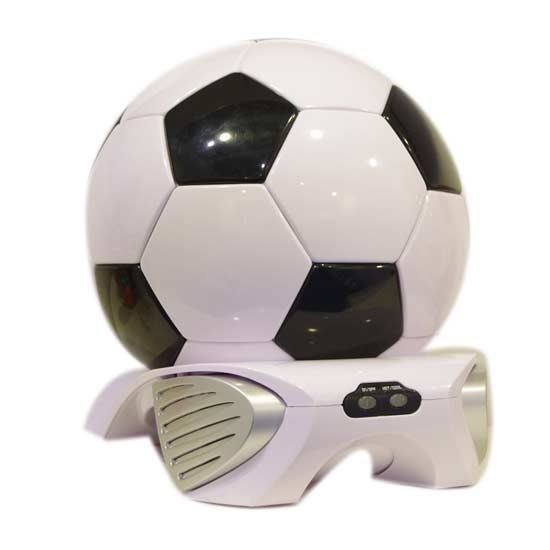 The mini fridge features a soccer-shaped design for added attractiveness. The ABS construction promises high durability. This mini fridge is a great choice for household. Gusto
8. Steel charcoal grill :
The 5-position adjustable pulley with chain is used to regulate the distance between grilling surface and burning charcoal. These stainless steel grills by Fire & Steel offer quality workmanship and impressive design. Surely, either grill will become a centerpiece of your yard. This model has a great design. Fire & Steel
9. Grill Red :
360 Grill is a deep-dish pizza oven, quesadilla press, omelet maker, or pancake griddle all in one stylish package.  you can still enjoy succulent steaks, chops, seafood, and burgers while leaving the fat behind.  George Foreman
10. Retro-Styled Appliances :
Today's modern appliances covered with a retro-styled shell, perfect for adding that final touch to a mid-century kitchen. Colors include red, robin's-egg blue, white.Elmira
Buy Kitchen Appliances From Amazon
Whenever you plan for remodeling your kitchen it can bring up all kinds of thoughts.  From horror stories of falling off the ladder to putting up the wall paper border upside down. Some of the things we do can be stressful and others can move quite smoothly.  If you're like me the smooth part doesn't come till you've said wops a hundred times or apologized an equal number of times for not doing the things that were suggested.
These things just seem to go hand in hand with building or remodeling.  That's why I like to save the cost of the mistakes and have someone else do it that has a track record better than mine.  No matter what direction we take we still have the project ahead of us and that is to remodel the kitchen.
So,When you are designing your kitchen a great way to save money is by buying Kitchen Appliance Packages.Not only do you save money but you can usually get better quality appliances. In your kitchen you will need a stove, comprising both hot plates, and oven and a refrigerator at the very least. You usually go to the store and ask how much a stove or refrigerator will cost.  You also measure the width and height and which way the door opens, then you buy because it's got the right knobs or handle or some other thing that take your eye.You are on the right track with all of those things but remember that phrase "Kitchen Appliance Packages".
By purchasing these items as a package, you basically get the benefits of a bulk buy. But, what are the other benefits in buying an appliance package?
When appliance manufacturers put  their kitchen appliance packages together they make sure that the appliances match each other. This means that colors will be identical as well as the styles of the items. You end up with a series of appliances that are coordinated and so when installed in your kitchen will not look like a mishmash of different looking items.Since you are buying an appliance package and saving money, you can opt for more expensive and better quality appliances but pay much less than if you bought them individually.
So what items can be purchased as packages. Well, just about any of the major appliances like stoves, fridges, freezers and dishwashers. Some manufacturers also include microwaves and sometimes washing machines and clothes driers can be included. All of the big manufacturers, Maytag, GE, Fisher Paykel and others all offer kitchen suites.These kitchen suits are very promising,under budget and compact.
There is also the option to choose your own appliances and make up your own appliance package. You can still save substantial dollars because you are buying two or three or more items and most stores will offer very good prices when the purchase is substantial.
In summary, why is a good idea to buy kitchen appliances as a package?
1. COST : The cost saving can be substantial because you are buying several items at once.
2. MATCHING ITEMS : all the appliances will match each other.
3. QUALITY : With the savings involved you could, if you wanted, opt for better quality appliances.
So next time when you plan to  purchase  items for your kitchen it is well worth looking into buying kitchen appliance packages and reaping the benefits.
Get your idea of Kitchen Appliance Package from few given pictures below :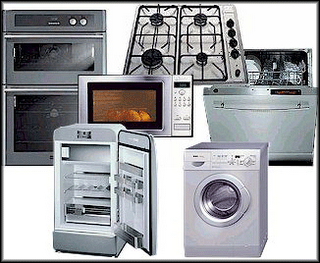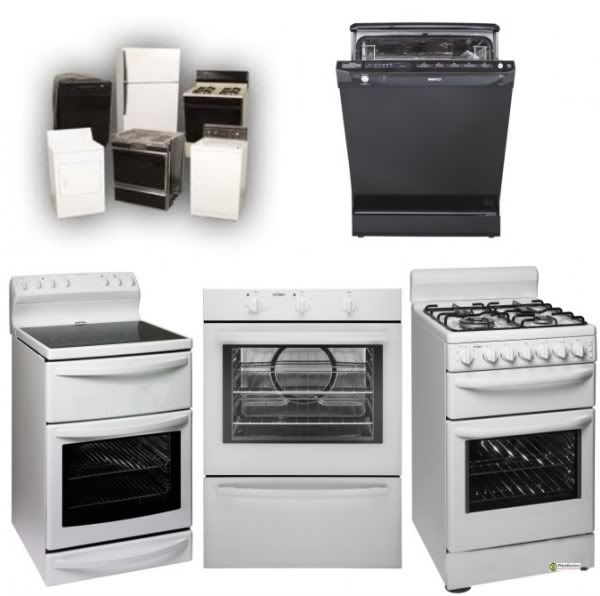 Buy Kitchen Appliances From Amazon
Here we have discussed about some outdoor kitchen equipment below:
If you want to cook a meal perfectly and professionally in your patio then there you should need a HIGH-QUALITY outdoor kitchen appliances . There are many types of equipment available in the market to buy, and many companies sell them both online and in DIY stores
. Always search for a 'QUALITY',this should be your searching keyword.
Most of the people still believe that grill is the main equipment  for an outdoor kitchen. Grills are available in several different configurations.There are two types of grills are mostly popular for an outdoor kitchens a simple gas and charcoal-only grills. However multi-fuel grills are opted from most of the people. There are also duel-fuel models available,which can cook with either natural gas or propane. Aside from gas, these grills can also cook with charcoal and wood. Some outdoor kitchens have two big grills.
There are few examples listed below of other types of outdoor kitchen appliances:-
Fridges And Other Cooling Equipment:-
Refrigerators are very necessary component of any outdoor kitchen.Gourmet refrigerators are mostly preferable from a people who have outdoor kitchens. These refrigerators offer uniform temperature and are extremely energy efficient.These are made of stainless steel and their interiors are also finished in stainless steel, and they have racks for chilling bottled drinks, glasses and mugs. If you prefer a smaller variety of refrigerator, there are the under-counter ones available also. These come in different modes such as regular refrigerators, refrigerato
rs with drawers or glass doors, or simple refrigerated drawers.
One another cooling equipment is  Beverage storage.It is a big consideration in planning an outdoor kitchen. You can get outdoor wine chillers, keg tappers, and beverage centers which combine wine and soft drink storage complete with keg tapper. Outdoor freezers can also be used to store your food until you are ready to use it.
There is, however, one problem with outdoor refrigeration. If you are resident in a hot country your ice maker may not work so well. The reason being that the temperature in the area surrounding the ice maker needs to be around 70 degrees if it is to work efficiently.
Weather-Proof Pizza Ovens:-
Pizza oven are a luxury in outdoor kitchen equipments,that you may can't ignore at all. These ovens are designed to be fully weather-proof. These ovens are actually new to the market, but if you have one, you can bake anything from a casserole to a cake in it.
Lobster boil pits are good not only for cooking lobsters but also for crab, crayfish, and shrimp. You can also deep-fry in them.You can stir fry in wok cook tops.
Weather-Tight Cabinets:-
Cabinets are also an important kitchen equipment for outdoor kitchens. All the cabinets need to be weather-tight. If you want luxury and convenience, you will want all the specialty cabinets.If you want your plates preheated then there are specially designed cabinets available which have warming drawers . There are also cabinets with tilt-in trash cans and with cutting boards.
Ice Maker:-
These can also be stand-alone models, or integrated into your refrigerator.With an outdoor ice maker, you'll never face that situation  where  you've run out of  ice.
Prep Carts:-
Nobody wants to cook in a
restricted kitchen space. So the solution of that problem is a prep cart,with which you can expand your workspace and get mobility.With a large cutting board, dual flip top work areas, built-in vegetable trays, storage drawers, cabinets, and a towel rack, you'll have everything you need.
These are so versatile they can also be used as a bar or buffet.
Smoker:-
If you want to cook dishes that have long cooking times at low temperatures,then a smoker is preferable for that.Your smoker can run on burning charcoal or gas, or you can opt an electric model with temperature controls, upper and lower vents, and lots of headroom for smoking large turkeys, hams, and roasts.
Here Two Video Tutorials Are Given Below For Outdoor Kitchen Designing With The Help Of Outdoor Kitchen Equipments:
With the help of above listed outdoor kitchen equipment you can shape out your dream outdoor kitchen in reality. Figure out what you need exactly to make your outdoor kitchen complete and then go for the best deals.You should have no trouble sourcing everything you need.
Buy Kitchen Appliances From Amazon
If you have a New Outdoor Kitchen or a New Stainless Steel Outdoor Kitchen Equipments,you need to keep them clean for there long life and to maintain there spark fresh forever.
There is a one common myth that stainless steel is stain proof. Stainless steel will also degrade like all other  metals. "Stainless" meance that it has much more  resistant power against staining, rusting and pitting.But it will still be affected by the elements present in an atmosphere.
Stainless steel is sensitive to fingerprints and smear.Salt air oxidation,road salt and some other damaging elements can also make effects of corrosion on Stainless steel equipments.
We suggest you a product call ProtectaClear for such kind of cleanings,it is an easy to apply,it will provide tough clear protective coating for your stainless steel equipments that will protect stainless steel from corrosion, salt air pitting and provides excellent fingerprint and smear prevention. ProtectaClear protected stainless steel surfaces will be much easier to keep clean and will never darken as it will with oily protectants.
ProtectaClear is food safe also.You can use it for your restaurant equipment also if you have, stainless steel refrigerators, sinks and much more.
How To Use ProtectaClear:
First of all wipe and clean your stainless steel kitchen equipments with a help of solvent and make sure that it is completely cleaned. Xylene or Denatured Alcohol can be purchased at most paint or hardware stores.Do not use lacquer thinner because it sometimes has oil in it. The actual goal is to remove oil, grease, fingerprints and other dirtying agents.
If  already stainless steel is corroded or rusty, clean the surface with very fine sandpaper or a scotchbrite pad,no-scratch cleanser should be used.Wash off the residue with EZ Prep Cleaner, solvent wipe to remove residue and fingerprints and then ProtectaClear can be wiped on with a clear-coat applicator or a foam brush or sprayed on with paint sprayers.
If you have just purchased a newstainless steel kitchen equipment for your kitchen then we will suggest you to simply wipe it with solvent and apply ProtectaClear. Two Coats are recommended.
How To Use Pressure Washer For Cleaning Your Outdoor Kitchen:
For cleaning outdoor kitchens and grills a pressure washer is the perfect tool for any homeowner,it makes it so effective and quick. Restaurants have been already using pressure washers to clean their kitchen appliances & grills from years, and to remove grease, stains and dust from their commerical hoods & kitchen exhaust equipment.
Now a days homeowners can also have an opportunity to use their own pressure washer to get complete, pro-style cleaning on their outdoor grills & kitchens. Here are some cleaning tips to keep in mind: Generally, outdoor kitchens and grills are constructed from tough and beautiful materials like stainless steel, granite, brick, etc.But pressure washer's are extremely powerful, so you'll always want to start cleaning with the widest spray nozzle or tip , which is the white tip (40 degree fan).
Before start cleaning your outdoor kitchen, you should cover any exposed electrical outlets, delicate lighting fixtures or accessories.
Use degreasing detergent if you have a greasy build-up. The degreasing detergent should be sprayed on, and allowed pre-treat the greasy area for a few minutes, before spraying off.
After completion of washing process for your outdoor kitchen or grill, wipe-up the excess moisture with a lint-free micofiber towel. A microfiber towel will soak up this excess water & allow you to shine the surface too.This small step of wiping after a pressure wash gives your outdoor Kitchen a brilliant finish.
Buy Kitchen Appliances From Amazon
Outdoor kitchen is now becoming a need of every household and everyone wants to fulfill there needs in a better way.An outdoor kitchen reflects the personality of its owner,and now a days there are many extraordinary outdoor kitchen designs are available according to the budget of a particular person,now you can choose even better designs in your budget,there is no anymore need to be afraid of higher prices. The outdoor area should be an entertainment site to unite family and friends. We look forward to helping you select the best design for your kitchen and the appliances that best suit your needs.
Research shows although grills sales have leveled off in the last 2 years, outdoor kitchen starts are up substantially. People spend an average of 8 hours a week outside their homes in their yards, pool area, or in the grilling or outdoor kitchen place. The casual setting helps us to relax with family and friends. View a few of the outdoor kitchens designs we have uploaded. Look for ideas from one or all of them.It will help you to choose one appropriate design according to your taste and it makes more easy for you to ask for the same design from your contractor.Give them your own selected design and let them prepare it for you.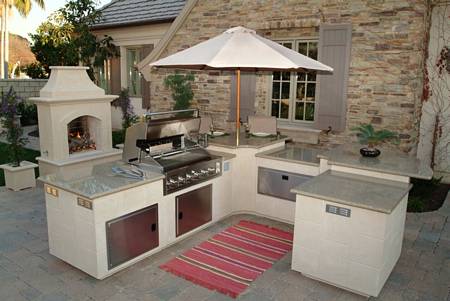 Buy Kitchen Appliances From Amazon
The outdoor kitchen is an upgraded version of  BBQ set up. It can include stovetop-style burners, griddles, roasting spits, sinks, refrigerators, storage space for dishes and cooking gear, low counters for prep work, bar-height counters for guests and many more things.Dividing backyard space into outdoor "rooms" is a growing trend in landscape and hardscape design with the biggest focus being on the outdoor kitchen. The outdoor kitchen is growing in size and functionality as it steals the spotlight and becomes a main focal point in the backyard.
1.Nowadays outdoor kitchens are  more in a trend and an elaborate extension of the indoor kitchen .Outdoor kitchens need to be sized appropriately for the space available while meeting the entertaining and dining needs of the homeowner.We suggest the work aisle be a minimum of 48 inches wide for one cook and 54 inches wide for two cooks.
2.Outdoor kitchens use the same functional areas as indoor kitchens like cold areas (refrigerators, freezers and coolers); hot areas (grills, cooktops, pizza ovens, etc);dry areas (prep areas, counters and cabinets or storage) and wet areas (sink, ice reservoirs, beverage tubs).Because of this, the design of the outdoor kitchen should use the same design principles as indoor kitchens.
3.During the planning process of your outdoor kitchen you should consider the workflow and relationship between these different functional areas. There should be enough space to work at each station and flow between the stations. The area for the cooks should not intersect major foot traffic lanes.
4.If you have a small, basic outdoor kitchen with  a grill plus a cooktop, sink and storage, it will usually  measured around 10 linear feet. With a kitchen of this size, there should be at least 36″ of clear countertop space and with not less than 24″ deep. By adding an undercounter fridge, you should consider boosting the available counter space to at least 48″.
5.As you add more storage and facilities, the more countertop space you should add. A large outdoor kitchen with all the features, which is able to accommodate multiple cooks, should typically have around 20 linear feet of work zones.We suggest you not to add unnecessary storages or luxuries to your outdoor kitchen,utilize the space provided at your patio well and try to make it extraordinary site in that available space.
6.The outdoor kitchen is not just about only cooking; it is also about entertaining. Keep that in mind guests will need a place to sit and eat. For normal use, you should allow at least 24″ of space per seat. If you want a more accessible design, then you should allow 24-36″ per seat.Plan the entire outdoor entertaining space as part of a single functional plan. Dining areas, cooking areas and pool areas often coexist. Think of these as outdoor rooms and consider the flow of traffic as part of the design. Don't isolate the cook from the rest of the party.
7.Build shade and rain shelter at your outdoor entertaining area.Incorporate shade trees, pergolas and awnings in cooking and dining areas, but don't put a combustible ceiling or awning above an outdoor grill. Outdoor-rated vent hoods are another option.
Buy Kitchen Appliances From Amazon
Here Some Portable Outdoor Kitchen Equipments Are Given Below:
YUKON STOVE
Description of the product:-
1.Ideal for RV traveling, car camping, the home patio or part of an emergency preparedness kit.
2.448- sq. in. of cooking surface provides ample space for pots and pans.
3.Two 30,000 BTU burners with individual low, medium and high adjustability give the chef complete control to boil, grill, simmer and saute.
4.Three-sided windscreen increases efficiency by reducing the effect of wind.
5.Legs are individually adjustable to ensure a level cooking surface on uneven ground Sets up and breaks down quickly for convenient transportation.
6.Propane fuel tank sold separately.
PORTABLE CHUCK  BOX
Description of the product:-
Portable chuck box is just what you need for your outdoor camp kitchen.It is durable and helpful to keep your food safe.
1.Heavy-duty, 24-gauge metal with reinforced hinges.
2.Latch locks protect food from curious animals.
3.Provides compact storage for camp accessories.
4.Features removable cutting board and side handles.
5.Includes storage bags and tool holder.
6.Dimensions: 22″ x 11″ x 14″.
CAMPER'S KITCHEN
Description of the product:-
Camper's Kitchen makes your camp cooking so easy and enjoyable,it will make you feel like you are cooking at your home in your indoor kitchen,because it had a lots of workspace as u found in your indoor kitchen worktops. It can folds down and packs into its included 42″ x 26″ x 14″ Cordura® nylon carry bag, it's compact enough to stow virtually anywhere – the campsite, lakeshore or hunting shack. The strong tubular steel frame offers quick, easy setup and take down without sacrificing strength. Three oversized tabletops create plenty of stable, level space for preparing meals, cleaning fish or game and organizing dinnerware. The center tabletop effortlessly removes to expose a PVC sink with drain, so washing pots, pans and utensils after the meal no longer requires hauling them streamside or to the nearest water faucet. Weather-resistant, removable hanging pantries with zippered front openings under the left- and right-side tabletops are ideal for storing everything from paper plates and plastic silverware to canned goods or dry ingredients. In addition, each has sturdy carry handles, dual, overhead lantern hangers and a folding spice shelf complete with S-hooks.